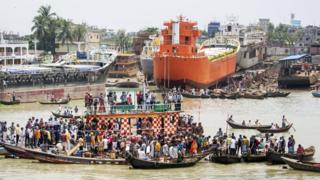 At least 32 individuals have died and several more are missing after a ferry capsized in Bangladesh, close to the capital Dhaka.
Rescue officials said the boat, the Morning Bird, overturned following a collision with another boat at the Buriganga river, near the nation's largest river port, Sadarghat.
Local press reports said the ferry came from a village at the middle of the nation and had approximately 50 passengers.
Ferry injuries are regular in Bangladesh due to overcrowding.
in addition, there are bad security standards in the nation's numerous shipyards and ferries frequently spout in poor weather.
Witnesses told local television channels that lots of passengers had been stuck in cottages on the ferry after the crash.
Pictures from the scene revealed substantial numbers of bodies in white bags that were recovered from the stricken vessel.
Reports stated the ferry sank because it tried to moor at Sadarghat, Dhaka's most important river interface, which can be used by tens of thousands of ships to go to the nation's southwest.
Abul Khair, a leader from the fire brigade, told the AFP news agency that rescuers had accumulated at 30 bodies, including many children.
Another 20 passengers are still considered to be overlooking.